This strawberry banana smoothie bowl recipe is one of my favourite smoothie bowls ever.
Since strawberry and banana is such a perfect pairing, it goes with pretty much everything. This makes it amazing for smoothie bowls because it means you can add so many toppings and it will taste amazing no matter what!
Fruity, refreshing, and deliciously creamy and cold, this strawberry banana smoothie bowl is a must try!
How to Make a Strawberry Banana Smoothie Bowl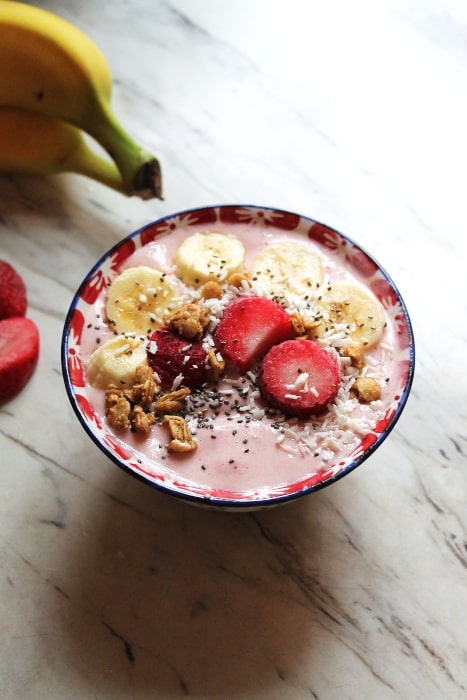 Step 1: Gather ingredients
This recipe calls for all the same ingredients as my strawberry banana smoothie:
Strawberries
Banana
Milk
Yogurt
Optionally, vanilla extract
The difference is that for this recipe, you need frozen strawberries and bananas. I usually buy frozen strawberries, and then chop my bananas up and freeze them myself ahead of time (great way to save them before they go too spotty and brown!).
The other thing you'll want to use for this smoothie is Greek yogurt. Thick Greek yogurt is best because it is much thicker than regular yogurt and helps establish that creamy consistency in your smoothie bowl and prevent it from getting watery as it thaws.
Pro tip: If you like coconut, try using coconut milk as your choice of milk – it makes for a silky smooth and decadent blend.
Step 2: Blend!
Since there are so many frozen ingredients, and not too much liquid, you will need a high-powered blender to blend this smoothie bowl.
Stop and scrape down the sides of the blender as needed while blending.
If needed, you can also add more milk bit by bit, or simply let your frozen fruits thaw for a couple minutes to make it easier to blend.
Step 3: Add Toppings!
Top with smoothie bowl with whatever toppings you like!
I like to use coconut, granola, chia seeds, and fresh fruit. But really, anything goes!
Give this strawberry banana smoothie bowl a blend and let me know how you like it in the comments below!
Strawberry Banana Smoothie Bowl
This strawberry banana smoothie bowl is thick, creamy, and simple yet delicious. Be sure to load it up with toppings like coconut and granola!
Ingredients
1 cup frozen strawberries
1 frozen banana
1/2 cup milk
1/4 cup plain, unsweetened, Greek yogurt
Optional: splash of vanilla extract
Toppings
Shredded coconut (unsweetened)
Granola
Chia seeds
Fresh fruit (strawberry and banana buttons)
Instructions
Add all ingredients to a blender.
Blend until smooth (about 1-2 minutes). Stop to scrape down the sides as needed.
Pour into bowl and add toppings. Enjoy!
Notes
If your blender is having a hard time blending through all the frozen fruits, add a bit more milk and stop frequently to scrape down the sides and mix a bit, or use a tamper. And/or let the frozen fruits thaw a little.