The Vitamix 5300 blender is a powerful model with excellent versatility and ease of use. This professional-quality blender, from the Classic series of Vitamix blenders, has a clean and simple design and long-lasting durability. Great for quickly whipping up blends for the whole family, year after year!
In this guide, we'll be going over:
Let's get into it…
What Does the Vitamix 5300 do?
The Vitamix 5300 can blend almost any ingredient quickly and efficiently. It has a powerful motor that spins the blades fast enough to chop, shred, grind, or puree anything and can even generate heat for hot blends!
The Vitamix 5300 can make:
Drinks (smoothies, juices, shakes, nut milks, frozen drinks, etc.)
Dips and spreads (hummus, salsa, guacamole, etc.)
Dressings
Sauces
Soups (hot or cold)
Batter
Dough
Baby food
Dry blends (ground spices, grains, flour, meal, powder, etc.)
Nut butters
Frozen desserts
Vitamix 5300 Specifications
Vitamix series
Legacy/Classic C-Series
Price
~$560 USD
Motor
2.2 horsepower motor
Wattage
1640 watts
Controls
-10-speed dial
-Start/stop switch
-Pulse switch
Parts/Accessories
-Low-profile 64-oz container (BPA-free Eastman Tritan Copolyester)
-Spill-proof two-part lid with plug for tamper use and for adding ingredients while blending
-Stainless steel hammermill and cutting blades (4-in diameter)
-Come with tamper, cookbook, Getting Started guide, manual
Special features
-Radial cooling fan and thermal protection system to prevent the motor from overheating.
Size
17.25 x 8.75 x 7.25 in
Weight
11.95 lbs
Warranty
7-year
Vitamix 5300 Pros and Cons
Pros
Cons
Powerful – 2.2 HP motor can efficiently blend through practically any ingredient, including ice, frozen ingredients, tough ingredients, and dry ingredients.


Versatile – can make a variety of blends, including thick blends, dry blends, soups, dough, etc.


Easy to use – simple and intuitive controls; no complex or excess features.


Low-profile 64-oz jug fits under most cabinets, and easily handles large batches.


Durable – all parts are made to last (jug, lid, blades, motor, etc.).


Easy to clean


Relatively quiet


Aesthetic design (comes in two colours)
Expensive – has to be used frequently to be worth the investment.


Not ideal for small batches – wide, low-profile jug makes it difficult to blend or use tamper with small amounts.


Lacks advanced/sophisticated features/controls such as pre-programmed settings.


Can be noisy on higher settings (relative to less-powerful blenders).


Can still be difficult to store and transport jug and overall structure
Vitamix 5300 Reviews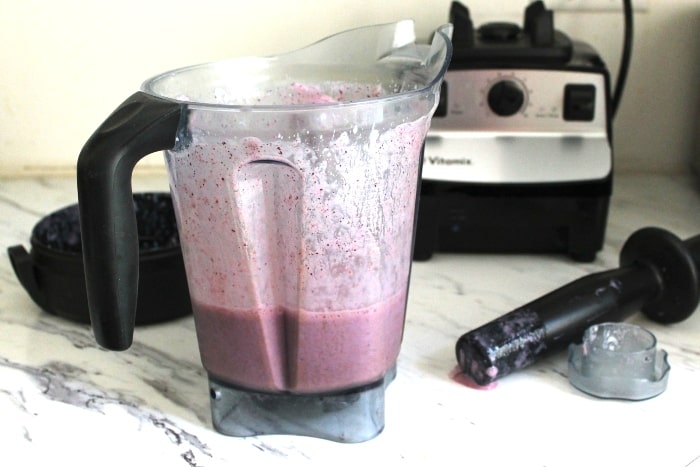 Here's what people are saying about this blender…
What they like:
Not too tall; the short low-profile container allows the blender to fit under most cabinets (with the lid on, assembled and ready to go).
Clear jug (so you can see it as it blends) and the larger size/width of the jug.
Pulsing option, manual controls, shorter/wider container.
Variable speed controls, powerful motor, tamper.
Removable cap in the lid is helpful for adding ingredients when blending.
How simple and powerful it is.
Strong and durable, but uncomplicated to use and operate.
Simplicity and straightforwardness of the controls.
Aesthetic appeal – black base with silver front plate. Some people also like the red.
No fancy electronics or features/controls prone to breakage.
Very informative manual and recipe book.
On/off toggle – motor does not operate at all when off – acts as a double safety for kids.
All items are well made and easy to clean (this is key if you use your blender a lot).
Easy to clean – blending method works well (more on this later) and wide-based container makes it easier to scrape things out from around the blades.
Great for blending large portions.
Highly versatile – can blend smoothies, smoothie bowls, nut butters, nut milks, ice, frozen fruit blends, ice cream, purees, vegetables, fruits, nuts, seeds, dates, oats, dry grains, pizza dough, flours, powders, and more.
Can blend solid completely smooth.
Blends kale so well you can barely see any flecks remaining.
Handles ice and frozen fruit with ease and quickly.
Blends smoothies in under a minute – no need to stop and reposition the fruit multiple times to get it all blended.
Makes green smoothies easily – can now eat so many more vegetables.
Smoother blends and in a shorter time than other blenders.
Helps reduce food waste by blending all usable parts of any food product.
Can use it for chopping, blending, mixing, grinding, and more.
Saves time on food prep.
Can be used as a food processor.
Noise level is appropriate for a high speed blender.
Only really loud on full power. Blends so quickly that the noise isn't really an issue.
Doesn't move around on the counter.
Quick – even though it pulverizes things, it doesn't take so long that cold frozen blends become runny.
Reliable, will last for many years.
What they don't like:
Short, wide container takes more liquid/food to cover the blades – since the base of the jug is wide, blending small portions can be difficult.
Still tall – may have to leave the lid off and/or keep it on the counter.
Jug is a bit large for a 2-person family and small amounts don't always blend easily without having to add more liquid.
Doesn't blend small amounts very well (especially thick blends like nut butters and cheesecakes) – need to use a lot of ingredients which can be a waste.
Blades can still get clogged up with fully frozen fruits for smoothies (but this can be managed with tamper or by adding more liquid through the lid plug).
Ingredients can get tossed to the side of the container and the tamper can't reach the sides (so have to take lid off and push ingredients to centre again).
Difficult to get stuff out from under the blades – blades don't detach from the jar and anything that is sticky or doughy will not come out easily.
Can't just throw blender cups in the dishwasher. Blending method only roughly cleans; still requires some hand-washing.
Blending method of cleaning only works without anything sticky or greasy like peanut butter. Have to wash by hand, especially the lid.
Can be very loud on high settings (but doesn't matter unless blending hot soups because everything else is so fast).
Hard to read the small measurements on the side of the jug.
Not worth it for blending small portions. If you're only likely to blend small amounts, buying a less powerful blender with small cups might be a better idea.
Other comments from customer reviews:
Ability to buy reconditioned – certified reconditioned model is like new. (more on this later)
Pulse button goes at the speed it was when the button was pressed. Speed doesn't change while pulsing if you move the dial (instead, have to stop, change speed, pulse again).
Start/stop switch is one button that you press once to start, press again to stop (not a toggle like other models).
People who also purchased the narrow 32oz wet container for smaller batches say that it works better for smaller batches than the 64-oz container.
Ultimately, majority of customers love their Vitamix 5300. In fact, a common theme among reviewers was people saying how they wished they had bought their Vitamix 5300 sooner! The positive feedback was mostly because of how easily and quickly this blender blends through anything (especially compared to other lower-powered blenders that they were used to), how the manual control features are simple, and how durable and long-lasting the blender is.
While majority of reviews rave about how the Vitamix 5300 was an excellent purchase, worth the investment, and how they would buy it again and recommend it to others, a few reviewers stated that the Vitamix 5300 didn't really do anything other blenders couldn't and had some downsides compared to other blenders such as ease/convenience of cleaning.
Who Should Buy the Vitamix 5300?
The Vitamix 5300 is the right blender for someone who:
Wants something reliable, tough, durable, dependable; a blender that they don't have to worry about.
Wants a versatile blender to make anything in (not just smoothies or simple drinks).
Wants a simple and intuitive Vitamix without any fuss or fancy features, that's easy to use.
Wants a blender that they will use everyday (not just take out once in a while to blend something).
Is looking to invest in a long-lasting Vitamix.
Wants a shorter Vitamix to fit in their cabinets/on their counter more easily.
The Vitamix 5300 is not the ideal blender for someone who:
Wants a good blender for smoothies and other drinks, but not much else.
Wants a blender that's small, light, and easy to store away/transport.
Doesn't need to make blends in a powerful blender very often
Wants a blender with smart technology, preprogrammed/automated settings.
Wants a blender they can throw in the dishwasher.
Typically blends small/single-portion sizes.
How to Use the Vitamix 5300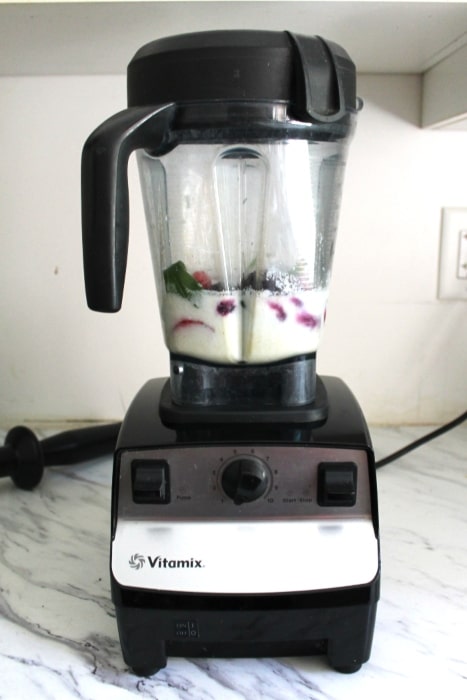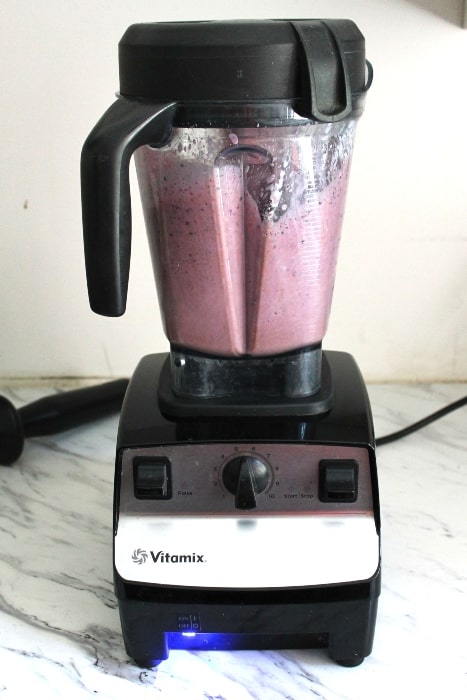 To use the Vitamix 5300, follow these general steps for an efficient and effective blend:
Put your ingredients in the blender jug. For optimal blending, add the ingredients in the following order: first liquids, then soft ingredients, then hard/frozen ingredients.
Secure the lid on the jug and place the jug on the motor base.
Turn on the blender (on/off toggle at the base). Make sure the speed control dial is at the lowest speed.
Press the start/stop switch to start the motor.
Slowly increase the speed using the dial. Or set the speed and use the pulse switch.
While blending, use a tamper through the lid if needed to help push the food into the blades. Add more liquid/ingredients through the lid if needed. Stop to scrape down the sides if needed.
Once well blended, dial down the speed back to the lowest, press the start/stop switch to stop the motor.
Serve. Rinse and wash jug as soon as possible.
Note that the blending time and speed will vary depending on your ingredients and what you are making. For recipes for hot soup or with ice, follow the recipe's directions.
How to Clean the Vitamix 5300
The cleaning method recommended by Vitamix is to fill the jug with soapy water and let it blend. For simple blends like smoothies and drinks, this method should work in under a minute. Then rinse and let dry.
However, as we can see from customer reviews/usage, this method doesn't actually work that well for sticky or oily blends.
You will likely need to give the lid, jug, and blades a clean by hand using warm soapy water and a non-abrasive sponge. The good thing about the Vitamix 5300 is that the jug is much wider than the classic 64-oz jug, which makes it a little easier to clean around the base by hand.
Another key tip for cleaning your Vitamix 5300 is to clean it right after using, or at least give it a rinse right away to prevent food from sticking and hardening on the jug and blades.
How Long Does the Vitamix 5300 Last?
The Vitamix 5300 is definitely a long-lasting blender. Customers report using it daily for years without any problems or signs of wearing down.
All parts of the Vitamix 5300 are made of high-quality materials that are made to last – through hot and frozen blends alike!
Vitamix 5300 Replacement Parts
What's more, a good thing about Vitamix blenders is that there are always replacement parts available.
The warranty will cover most replacements, but you can also find replacement jugs, blades, tampers, lids, and other components on Amazon.
The Vitamix 5300 is compatible with the Legacy series of Vitamix blenders, meaning you can use any jug (with integrated blades) from this series with your Vitamix 5300 motor base. Some customers like to purchase different types of jugs to try out – some jugs are better for smaller portions, some are space-saving, some are for dry blends, etc.
Where to Buy the Vitamix 5300
You can buy the Vitamix 5300 directly from Vitamix or through another retailer like Amazon.
You can also find them used on Amazon, eBay, and other retail sites. Buying used or refurbished is an excellent way to save money; however, keep in mind the condition and the warranty.
Certified Reconditioned 5300
The Certified Reconditioned 5300 blender was actually the first Vitamix I ever bought, and I can say that I agree with other customer reviews – it's as good as new!
Vitamix offers many certified reconditioned models, including the Certified Reconditioned 5300, which is basically a refurbished version of the Vitamix 5300. This model comes at a much cheaper price of ~$360, and has a slightly shorter warranty of 5 years.
This is an excellent option if you are on the fence about investing in the Vitamix 5300.
Here's what buyers say about the Certified Reconditioned 5300:
Arrived quickly and in mint condition (could not tell apart from new unit) with tamper and manuals.
Perfect condition other than a few minor scratches near the base of the jug.
Comes with a warranty and can purchase an extended warranty.
All items are well made and easy to clean.
Runs smooth.
Conclusion
The Vitamix 5300 is a powerhouse of a blender that can blend through any ingredient with ease and efficiency.
The low-profile jug makes this blender easier to store and is great for blending large batches.
Although the Vitamix 5300 is not cheap, majority of buyer reviews state that it is worth every penny and will serve you and your family well for many years.