This tasty and refreshing tomato smoothie is just the healthy drink you need this summer.
If you're looking for a tomato smoothie that doesn't taste like a blended salad, this recipe is for you!
Whether you enjoy drinking tomato juice, or you want a healthy drink but aren't a fan of vegetable juices like V8, you have got to give this smoothie a try…it's a take on tomato juice, but yummier!
I personally like my smoothies to be sweet and tasty, so that's exactly what this smoothie is, without compromising on nutrition. With a few choice ingredients, this tomato smoothie is the perfect amount of tangy, fruity, and umami, without the need for any added sugar or funky ingredients.
It's super healthy too! We'll get into the benefits of this tomato smoothie in this post as well.
Ready to give this tomato smoothie recipe a try?!
Here's how to make it…
How to Make a Tomato Smoothie
Step 1: Gather ingredients
Tomatoes: Any variety of tomato will do. Just make sure the tomatoes are nice and ripe; unripe tomatoes will lack in flavour. You'll want to use fresh tomatoes – not mushy or frozen. You can chop the tomatoes in half or smaller, but there is no need to remove the seeds or the skin. You'll need around 3 medium-sized tomatoes, but can adjust this amount to your taste.
Celery: It wouldn't be a proper tomato drink without tomato's sidekick, celery. About half a stock is all that's needed to add plenty of hydration (and nutrients) to the drink. Make sure to blend it until all the strings are chopped away…no one wants a stringy smoothie.
Oranges: Oranges are the perfect fruit to add to this tomato smoothie because they add some natural sweetness and fruitiness without overpowering the flavour. The addition of fruits also makes this smoothie a little thicker and more substantial.
Strawberries: Strawberries are another perfect fruit for this smoothie. Again, they offer some natural sweetness that helps counter the acidity of the drink, as well as that element of fruitiness. You can use either fresh or frozen strawberries – frozen strawberries will help thicken and chill the smoothie.
Lemon juice (optional): Squeezing in some fresh lemon juice will elevate the zest of the smoothie and make it more refreshing.
Fresh basil: Basil is a lovely herb to add to refreshing summer smoothies like this one. Basil goes exceptionally well with tomato as well as the other ingredients (strawberry, orange, lemon). Alternatively, if you don't have basil on hand, you can use fresh parsley for a similar effect.
Ice: Lastly, to make the smoothie cold and frosty, you can blend in some ice cubes or crushed ice. Just keep in mind that ice can water-down the smoothie – so use as you want. To make blending easier, make sure to add the ice cubes to the blender last.
Chia seeds (bonus ingredient): Once your smoothie is blended, stir in some chia seeds and let them sit for a minute or two. The seeds will gel up and add some lovely texture and thickness to the smoothie.
Step 2: Blend!
Blend on high for about 30-60 seconds until smooth. Make sure there are no strings from the celery left, and that the herbs are fully incorporated.
Stir in the chia seeds and let them gel up a bit.
Pour into glasses, and enjoy!
Tomato Smoothie Benefits
This tomato smoothie is incredibly hydrating and nutritious, thanks to its simple and wholesome ingredients. It also packs quite the antioxidant punch, with plenty of antioxidant-rich, immune-supporting components.
Tomatoes offer all sorts of nutritional benefits as they are full of antioxidants, vitamins, and minerals.
Tomatoes contain plenty of lycopene, which is an antioxidant that helps reduce harmful oxidation and inflammation in the body. Lycopene is what gives tomatoes their red colour.
Tomatoes also contain plenty of vitamin C (another important immune-supporting antioxidant), vitamin A, vitamin K, folate, potassium, and more! They are also a good source of (mostly insoluble) fibre.
Celery is mostly added for hydration and that refreshing celery taste, but it also contains many important antioxidants, phytochemicals, fibre, and micronutrients. Celery can also help counter some of the acidity of the acidic foods such as the tomato and citrus in this smoothie.
Oranges contain plenty of immune-supporting vitamin C, as do the strawberries and lemon juice.
Basil is incredibly rich in nutrients including vitamin K, vitamin A, vitamin C, manganese, calcium, folate, magnesium, iron, and more. Basil can also help with digestion, and contains antioxidant and antimicrobial compounds.
Chia seeds are loaded with fibre, protein, and omega-3 fatty acids. They are also rich in micronutrients including calcium, iron, magnesium, phosphorous, zinc, and B vitamins.
Ultimately, this tomato smoothie is jam-packed with antioxidants, essential nutrients, and fibre – great for the immune system, the gut, and the taste buds!
Make sure to give this healthy and delicious smoothie a blend this summer…Trust me, even if you've never liked veggie drinks, you're going to be hooked on this tomato smoothie!
Give this tomato smoothie recipe a try, and let me know how you like it in the comments below!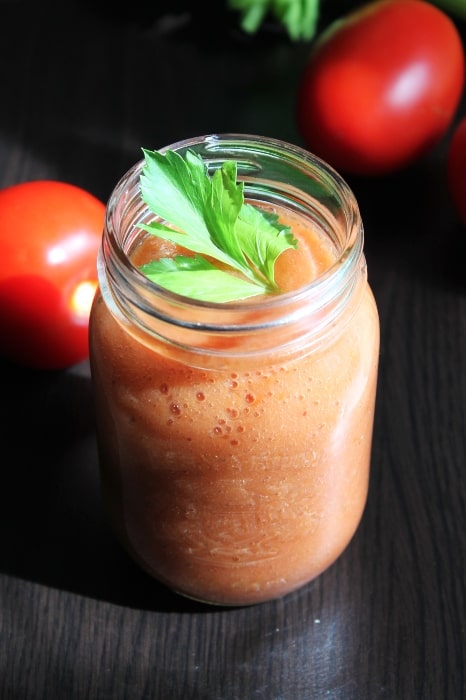 Tomato Smoothie
This tasty tomato smoothie is healthy, refreshing, and perfect for summertime! If you're looking for a tomato smoothie that doesn't taste like a blended salad, this recipe is for you!
Ingredients
3 fresh, ripe, medium-sized tomatoes (skin on)
1/2 stalk of celery
2 oranges, peeled
1/2 cup strawberries (fresh or frozen)
Squeeze of lemon juice (optional)
2 leaves fresh basil (or parsley)
~1/2 cup ice cubes or crushed ice
1 tbsp chia seeds (stir in after blending)
Instructions
Add all ingredients to a blender (ice and any frozen ingredients added last).
Blend until smooth (about 30-60 seconds).
Stir in chia seeds and let them gel up a bit.
Serve and enjoy!
Notes
If you want a thinner consistency, add some water to the blend, or let the smoothie warm up a bit so the ice in it melts.
If you want a thicker consistency, add more ice to the blend (and drink it before it melts!) and/or stir in more chia seeds at the end.