This strawberry raspberry smoothie is bursting with flavour and packed with important nutritional components.
You're going to love this bright blend of tasty and wholesome ingredients!
How to Make a Strawberry Raspberry Smoothie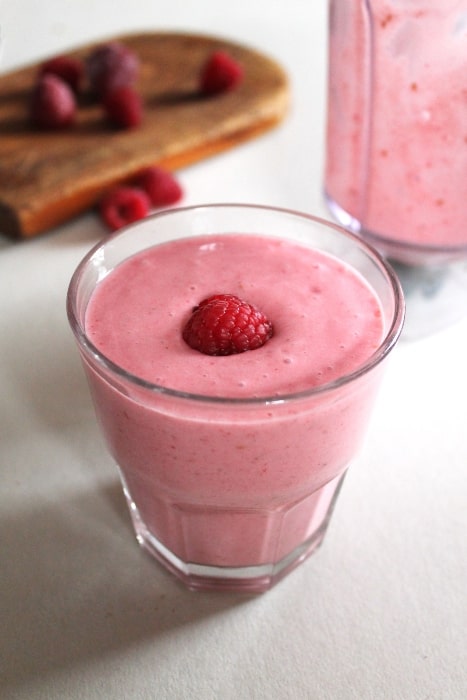 Step 1: Gather ingredients
Strawberries – the key to this bright, sweet, and flavourful smoothie. Use 1 cup of fresh or frozen strawberries. For easier blending, chop up first.
Raspberries – another key berry that adds the slightest bit of tang and zest to the smoothie. Use 1 cup fresh or frozen.
Note: For a colder and thicker smoothie, use at least one frozen fruit (strawberries and/or raspberries and/or banana).
Banana – the final fruit in this smoothie. Banana is included for added sweetness, creaminess, and thickness. To avoid overwhelming the berry flavours of this smoothie, just add 1/2 a banana.
Note: If you don't want banana in your smoothie, you can always leave it out and just add more maple syrup for sweetness.
Milk – the liquid base of the smoothie. Milk keeps the smoothie at a drinkable consistency while completing the lovely berries-and-cream flavour profile. Start with 1 cup, but you can add more if you used frozen fruits and find that the smoothie is too thick.
Maple syrup – to add some sweetness to the smoothie. Start with 1 teaspoon, but you can always add more to taste, especially if you are leaving out the banana.
Vanilla extract – the final touch to give this smoothie a luxurious and dessert-like feel. Just a splash is all you need to perfectly complement the fruity and creamy elements of this smoothie.
Step 2: Blend
A high-powered blender is best for making this smoothie, especially if using frozen fruit.
Simply add all ingredients to your blender's pitcher (to help your blender out, add frozen ingredients to the pitcher last), and blend on high until smooth with no chunks remaining (about 30-60 seconds for a high-powered blender).
The raspberries in this smoothie tend to leave seeds behind, even after blending on high. Some blenders might be able to blend through the seeds and give a smooth end result, but most blenders cannot. Even high-powered blenders will most likely still leave some seeds or graininess in this smoothie after blending. For this reason, I like to do step #3 below whenever blending raspberry smoothies.
Step 3: Strain
To achieve a silky smooth texture, strain the blended smoothie through a fine-mesh sieve to remove any lingering raspberry seeds or grainy remnants.
Step 4: Serve and enjoy!
Pour into glasses (or bowls if you used enough frozen fruits to make it into a smoothie bowl!), and enjoy your tasty and refreshing berry smoothie!
Strawberry Raspberry Smoothie Benefits
Among other health and nutritional benefits, this smoothie is loaded with antioxidants.
Strawberries and raspberries get their red colour from their high anthocyanin content. Anthocyanins are phenolic compounds with powerful antioxidative properties as well as antimicrobial activity, neurological benefits, and protective properties against many non-communicable diseases.
In addition to plenty of anthocyanins, the berries in this smoothie also offer plenty of vitamin C (another important antioxidant), manganese, fibre, omega-3 fatty acids, and other important nutrients!
Give this highly nutritious and delicious strawberry raspberry smoothie a blend and let me know how you like it in the comments below!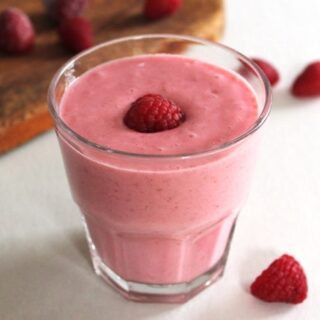 Strawberry Raspberry Smoothie
Enjoy this strawberry raspberry smoothie as a refreshing summer drink or a fruity addition to breakfast.
A bright blend of simple yet tasty wholesome ingredients.
Ingredients
1 cup strawberries*
1 cup raspberries*
1/2 a banana*
1 cup milk
1 tsp maple syrup, or to taste
Splash of vanilla extract
Instructions
Add all ingredients to a blender (frozen ingredients added last).
Blend on high until smooth.
Strain through fine-mesh sieve to remove seeds.
Serve and enjoy!
Notes
*Use at least one frozen fruit for the best coldness and thickness.
-Can leave out the banana if you want, and top up with maple syrup to desired sweetness.