This raspberry orange smoothie is a wonderful fruity blend of tangy raspberry paired perfectly with juicy orange citrus.
This smoothie is not only fruity and refreshing, but also very nutritious, offering plenty of vitamin C, antioxidants, and even probiotics!
How to Make a Raspberry Orange Smoothie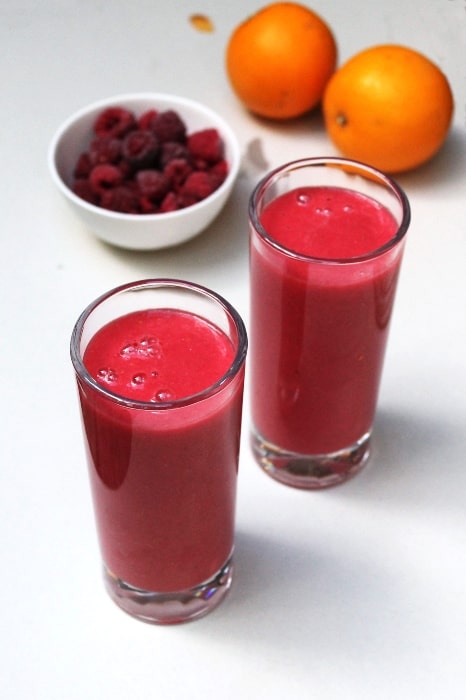 Step 1: Gather ingredients
You can use fresh or frozen raspberries for this smoothie. I prefer to use frozen so that the smoothie is nice and frosty and cold without needing ice.
The other main ingredient is orange – this recipe calls for fresh whole oranges, but another option could be to make this smoothie with orange juice as the liquid base.
Another fruit in this recipe, is half a frozen banana. This is included to add some natural sweetness and extra creaminess to the smoothie, but it is totally optional!
For the liquid base, you can use either milk or water in this recipe. Milk makes the consistency a little more like a smoothie instead of a juice, and also adds some calcium and vitamin D! The same goes for the addition of a bit of Greek yogurt.
Finally, the addition of fresh mint leaves brings a wonderful flavour to this refreshing smoothie.
Step 2: Blend!
To make this raspberry orange smoothie you will need a good blender to blend through the seeds of the raspberries.
Even after blending on high with my Vitamix, I like to also strain the smoothie through a fine mesh strainer at the end to get out any bits of seeds remaining. This results in a wonderfully smooth smoothie!
Give this raspberry orange smoothie a try. If you liked this recipe, let me know in the comments below!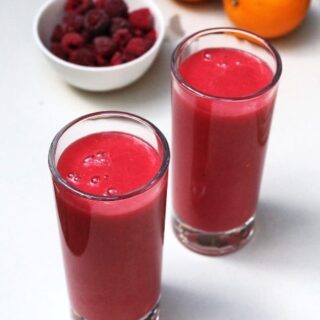 Raspberry Orange Smoothie
This zesty raspberry orange smoothie will cut right through the summertime heat. Refreshing, delicious, and nutritious!
Ingredients
1 cup frozen raspberries
2 oranges, peeled
1/2 a frozen banana (optional - for sweetness)
1 cup milk (or water)
1 scoop of plain, unsweetened Greek yogurt
2-4 fresh mint leaves (or basil)
Instructions
Add all ingredients to a blender (frozen ingredients added last).
Blend until thoroughly smooth and not gritty (about 60 seconds).
Serve and enjoy!
Notes
If you don't have fresh mint on hand you can use a few leaves of fresh basil instead.
After blending, you can strain the smoothie through a fine mesh strainer to get the seeds out for a smoother texture.