There's nothing like a refreshing raspberry blackberry smoothie to wake up your taste buds in the summertime.
Blending raspberries and blackberries with just a few simple ingredients, makes for a tasty smoothie that is sweet, tart, and packed with nutrients and health benefits.
So let's get blending!
How to Make a Raspberry Blackberry Smoothie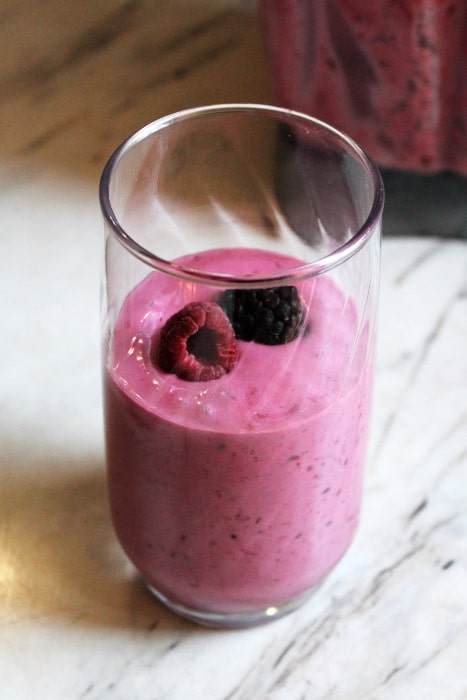 How to Make a Raspberry Blackberry Smoothie
Step 1: Gather ingredients
For this smoothie, you will need frozen raspberries and blackberries.
Frozen berries will result in a thick and cold smoothie. However, this smoothie can be made with fresh berries instead if that's what you have on hand.
If using fresh berries, you can add in some ice to make your smoothie cold and frosty, or, if you don't want to use ice, just pop the berries in the freezer on a tray ahead of time.
For the liquid base of this smoothie, choose any milk of your choice.
Along with the milk, you will want to add in some yogurt. Yogurt gives this smoothie a creaminess that goes wonderfully with the vibrant berries.
This recipe specifically calls for Greek yogurt – the creamiest of them all! – as it adds a decadent creaminess and a thick consistency to the smoothie.
Next, you will want to make the smoothie a little sweeter, to complement the tartness of the berries.
Honey is a natural sweetener that tastes amazing with berries. You can start with one teaspoon of honey, and then add more to your taste.
Lastly, you will not want to leave out the vanilla extract. The vanilla really elevates the creaminess of the yogurt and pulls everything together.
This smoothie consists of just a few simple flavours, but they all pair together perfectly!
Optionally, for a bit of added zest, you can squeeze in a bit of lemon juice. You can't go wrong with lemon and berries!
Step 2: Blend
Blend on high for around 30-60 seconds, until thoroughly smooth.
Note: If your blender is having a hard time getting through the frozen berries, you can always add a touch more milk, or let the berries sit and thaw for a couple minutes to make it easier.
How to get Raspberry and Blackberry Seeds Out of a Smoothie
Raspberries and blackberries both have a tendency to leave pesky seeds in your smoothie.
If you do not like the texture and grittiness that seeds can bring, you can try one of the following methods:
If you have a high-powered blender, continue to blend on high until those seeds are chopped fine enough that the smoothie is no longer seedy and gritty.
If blending is not cutting it, strain your smoothie through a fine-meshed sieve, pushing the smoothie through with a spatula or the back of a spoon. This is an extra step, but it will leave your smoothie silky smooth in the end. If straining the smoothie is taking too long, toss the smoothie back in the blender and add a bit of extra milk – making the smoothie more liquidy will speed up the straining process.
Raspberry Blackberry Smoothie Benefits
This raspberry blackberry smoothie is nutrient-dense and full of antioxidants.
Berries, such as raspberries and blackberries, are well-known for their antioxidant content. The strong red and black colouring of raspberries and blackberries comes from their high content of anthocyanins, which are a type of polyphenol.
Polyphenols are powerful antioxidants that reduce harmful oxidation and inflammation in the body.
To list just a few of the potential benefits, studies have found that anthocyanins may be beneficial for protecting against cardiovascular and neurodegenerative diseases, combating obesity, and benefiting eye health.
In addition to the berries, the other ingredients in this smoothie are also very healthy.
The milk and yogurt provide protein, essential vitamins and minerals, and gut-friendly probiotics.
The honey is a natural sweetener with numerous beneficial immune-supporting properties, and it reduces the need to add in refined sugar or other additives.
All in all, this blend of simple yet wholesome and nutritious ingredients create a smoothie that your taste buds and immune system will love!
Give this raspberry blackberry smoothie a blend and let me know in the comments below how you like it!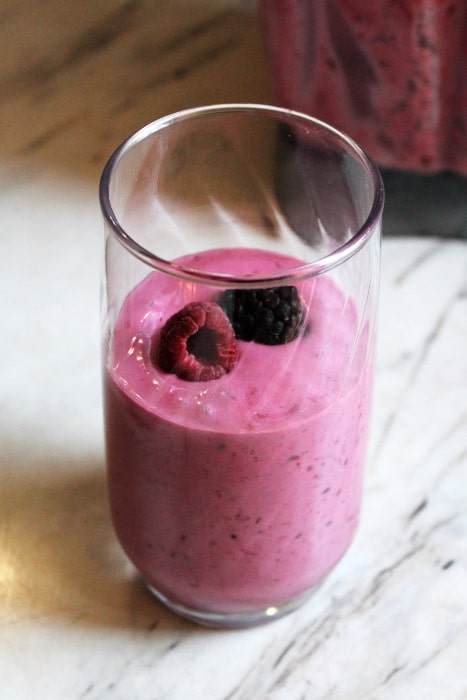 Raspberry Blackberry Smoothie
This raspberry blackberry smoothie is vibrant, refreshing, and nutritious. Make it in minutes with just a handful of simple, wholesome ingredients!
Ingredients
1 cup frozen raspberries
1 cup frozen blackberries
1 cup milk
1/2 cup plain, unsweetened, Greek yogurt
1 tsp honey, or to taste
1/2 tsp vanilla extract
Optional: squeeze of lemon juice
Instructions
Add all ingredients to a blender.
Blend until smooth (about 60 seconds).
Serve and enjoy!
Notes
If your blender is having a hard time getting through the frozen berries, add a touch more milk, or let the berries thaw for a couple minutes.
To get rid of any remaining berry seeds after blending, strain the smoothie through a fine-meshed sieve.