As the days get chillier and you begin to crave the cozy comfort that only pumpkin spice can bring, this creamy pumpkin pie smoothie is just the drink you need!
While pumpkin spice is usually enjoyed in warm drinks or baked goods, this pumpkin smoothie is cold and refreshing, yet still tastes like a hug in a glass.
This is one of my very favourite smoothie recipes because it truly tastes like a decadent pumpkin dessert…even though it has absolutely no added sugar or sweeteners!
If you're a fan of pumpkin anything and everything, you have got to try this pumpkin smoothie!
Here's how to make it…
How to Make a Pumpkin Pie Smoothie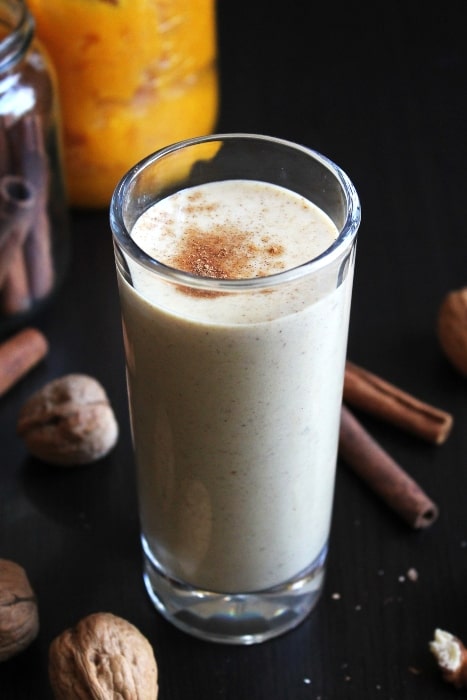 Step 1: Gather ingredients
Pumpkin puree – from the can is easiest. But bonus points for making your own homemade puree from a pumpkin. Alternatively, you can use chunks of cooked pumpkin.
Banana – bananas are what makes this smoothie sweet without having to add additional sugar. You'll also want to make sure to use frozen banana to make the smoothie colder and thicker.
Milk – use any milk of your choice for the liquid base.
Greek yogurt – this recipe calls for plain, unsweetened, Greek yogurt. Greek yogurt really makes this smoothie so creamy, smooth, and decadent. It also adds a lot of protein as an added bonus!
Walnuts – throw in some chopped walnuts for a lovely nutty flavour that complements the pumpkin beautifully.
Spices – this smoothie is spiced with pumpkin spice (obviously) and cinnamon. Pumpkin spice already has cinnamon in it, but I like to add a little more cinnamon. I put half a teaspoon of each, but you can certainly adjust the spice to your taste.
Pro tip: If you don't have pumpkin spice, you can recreate it by mixing together roughly 2 tsp ground cinnamon, 1 tsp ground ginger, 1/2 tsp ground nutmeg, and 1/4 tsp ground cloves.
Vanilla extract – a splash of vanilla extract is the final touch that makes this smoothie really feel like a dessert. Vanilla elevates the plain Greek yogurt, and brings all the other flavours together into one cozy blend!
Note: If you want a sweeter smoothie, you can always toss in 1 or 2 pitted dates, or a tablespoon of maple syrup.
Step 2: Blend!
Add all ingredients to a blender (frozen banana added last), and blend for 30-60 seconds until smooth.
Pour into glasses and enjoy your cozy, creamy, delicious, and surprisingly healthy pumpkin smoothie!
Give this tasty and healthy pumpkin pie smoothie a blend, and let me know in the comments below how you like it!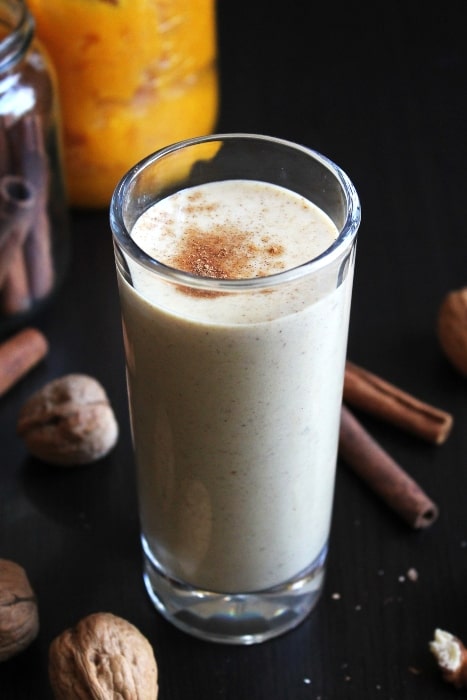 Pumpkin Pie Smoothie
This pumpkin pie smoothie is cozy, creamy, and perfectly spiced. It's the perfect fall drink, but really, it tastes so good you'll want to drink it year-round! This smoothie tastes like a creamy and decadent pumpkin dessert, yet it is made with just a few wholesome and healthy ingredients and absolutely no added sugar or sweeteners!
Ingredients
1/2 cup pumpkin puree
2 frozen bananas
1 cup milk
1/2 cup plain, unsweetened Greek yogurt
1/4 cup chopped walnuts
1/2 tsp pumpkin spice
1/2 tsp ground cinnamon
1/2 tsp vanilla extract
Instructions
Add all ingredients to a blender (frozen ingredients added last).
Blend until smooth (about 30-60 seconds).
Serve and enjoy!
Notes
If you don't have pumpkin spice, you can recreate it by mixing together ground cinnamon, ginger, nutmeg, and cloves.
If you want to make this smoothie sweeter, try adding in 1-2 pitted dates or 1 tbsp of maple syrup.