This pineapple green smoothie is my absolute favourite green smoothie, because it is loaded with greens but it truly does not taste green at all!
Instead, it tastes like a delicious, tropical, fruity, and zesty pina colada, enjoyed on some sunny beach somewhere warm in the world (i.e. not Canada right now!).
While it tastes heavenly, this smoothie is also incredibly good for you as it is packed with nutrients, fibre, and antioxidants!
Here's how to make this delicious & nutritious pineapple green smoothie…
How to Make a Pineapple Green Smoothie
Step 1: Gather ingredients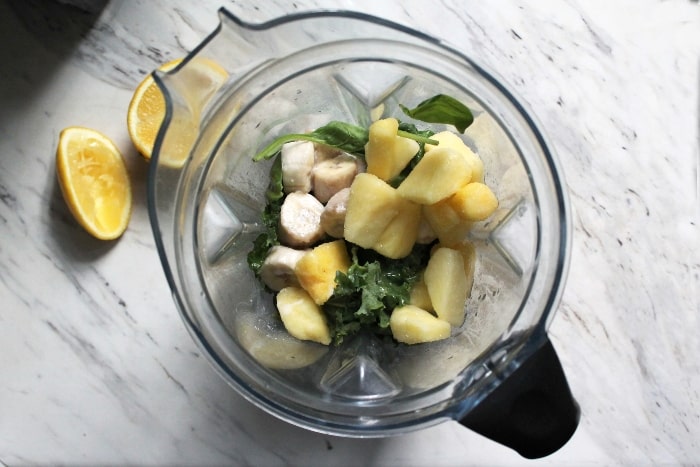 For this green smoothie, you will need about 1-2 cups of greens (depending on how much you can taste the green-ness). Spinach and/or kale are both great options for this smoothie.
Because this smoothie is so delicious and naturally sweet and fruity and flavourful, you can get away with tucking a lot of greens in there without noticing. I always put a full two cups of greens and I swear I cannot taste them at all! But if you're not used to drinking green smoothies, you can always start with one cup of greens, and work up to two cups if you'd like.
Next, you will need frozen pineapple. Pineapple is the main focus of this smoothie, and this smoothie tastes so good because pineapple really blocks out any green taste. Fresh pineapple is also an option.
You will also need banana. Banana brings a lot of sweetness and creaminess to the smoothie, it goes great with the pineapple, and it also helps cover the taste of the leafy greens.
If using frozen pineapple, I would use fresh banana, and vice versa. You want one of your fruits to be frozen, to make your smoothie thick and cold.
The liquid base of this smoothie is coconut milk. Coconut milk together with pineapple is what brings that lovely pina colada flavour to this green smoothie. Coconut milk is also quite silky and creamy so it makes the blend smoother and creamier.
Lastly, for a bit of zest, add some lemon juice. Lemon juice is also a tried and true way to cut out any overpowering green taste in a green smoothie. Here, the lemon goes great with the other fruits and flavours of this smoothie, resulting in a bright and refreshing blend.
Step 2: Blend!
Place ingredients in the blender in the following order: liquid, greens, fresh fruit, frozen fruit.
Blend on high for about 30-60 seconds until thoroughly smooth with no grainy greens left behind.
Then pour into glasses and enjoy!
Pineapple Green Smoothie Benefits
This pineapple green smoothie is very healthy, thanks to all the nutrient-dense ingredients included in the blend.
Spinach/Kale – whether you use spinach or kale, or both, the dark leafy greens in this smoothie add a ton of fibre, protein, and nutrients such as vitamin K, vitamin A, vitamin C, magnesium, iron, folate, potassium, calcium, and more!
In addition, both spinach and kale are known to contain powerful antioxidant phytochemicals that reduce harmful inflammation and oxidation in the body, among other functions.
Pineapple – contains loads of vitamin C, as well as important antioxidants and enzymes such as bromelain.
Banana – together with the pineapple, the banana makes this smoothie very naturally sweet and delicious, without having to add in any additional forms of sugar! Bananas also provide fibre and nutrients such as potassium, magnesium, and vitamin C.
Coconut milk – contains healthy fats, including medium-chain triglycerides such as lauric acid, which help regulate blood sugar, and may have additional benefits such as anti-inflammatory and anti-microbial properties.
Lemon juice – adds important nutrients like vitamin C – great for your immune system and skin.
Give this tropical green smoothie a try and let me know in the comments below how you like it!
Pineapple Green Smoothie
This pineapple green smoothie will make you feel like you're sipping a refreshing pina colada on a warm, tropical beach. You'll forget it's even a green smoothie! Delicious, refreshing, and oh so healthy! This green smoothie is packed with fibre, antioxidants, and essential nutrients.
Ingredients
2 cups spinach and/or kale
1 cup frozen pineapple chunks
1 banana
1 cup coconut milk
Juice from half a lemon (or to taste)
Instructions
Add all ingredients to a blender (greens added first, frozen ingredients added last).
Blend until smooth (about 30-60 seconds).
Serve and enjoy!
Notes
You can always start with one cup of greens, then increase to your taste.