This mango ginger spinach smoothie is a quick and easy green smoothie that tastes amazing and is packed with nutrients!
This smoothie will help you get in plenty of fresh leafy greens, as well as other nutritious ingredients like ginger, mango, and dairy.
Let's get into how to make this tasty and healthy smoothie, and what the health benefits are.
How to Make a Mango Ginger Spinach Smoothie
Step 1: Gather ingredients
This smoothie is simple but incredibly healthy due to the nutritious ingredients included in the blend…
This green smoothie uses spinach as the leafy green. Either fresh or frozen spinach works well.
Like any other green smoothie, feel free to swap the spinach with kale or your preferred choice of leafy green.
To counter the green taste of the spinach, this smoothie uses sweet and delicious mango as the staple fruit. To get a thick and cold smoothie, frozen mango chunks work best.
Mango is quite a sweet fruit with a lovely tropical flavour, so it helps make this smoothie taste amazing without having to add a bunch of other ingredients.
The other main ingredient is ginger, which really helps elevate this smoothie and adds a ton of health benefits.
Ginger complements mango wonderfully, and adds a nice refreshing kick to this green smoothie.
I use a fresh knob of ginger with the skin still on (well washed), and let my Vitamix shred it up. But you can also grate your ginger or cut it up very fine if your blender is not powerful enough to get through it.
Lastly, the liquid base of this smoothie consists of milk, paired with yogurt – specifically, Greek yogurt – to make it nice and thick and creamy.
That's it! Just a handful of clean and healthy ingredients. The simplicity of this smoothie really helps the individual natural flavours of the ingredients – especially the mango and ginger – shine through.
Optionally, if you want the smoothie sweeter, you can add half a frozen banana.
Step 2: Blend!
Mango Ginger Spinach Smoothie Benefits
Each of the wholesome ingredients in this smoothie offer plenty of health benefits…
Firstly, spinach is a popular leafy green for a reason – it is jam packed with important vitamins and minerals, such as vitamin K, vitamin A, vitamin C, iron, potassium, folate, and calcium, as well as fibre and antioxidant phytochemical compounds.
The mango in this smoothie adds natural sweetness and flavour, reducing the need to add other sweeteners to the smoothie. Like spinach, mango is also packed with fibre, antioxidants, and micronutrients such as vitamin C, vitamin K, and folate.
Mango is particularly high in vitamin C, which is perfect for this smoothie because vitamin C drastically increases the absorption of iron from the spinach.
Mangos are also rich in an important antioxidant called beta-carotene. Interestingly, this scientific review says that mango provides the body with much higher amounts of beta-carotene when consumed in combination with milk. An added bonus!
And, of course, the third main ingredient, ginger, is well-known for its immune-strengthening, antioxidant, anti-inflammatory, and disease-preventative properties, due to its active ingredient, gingerol.
Lastly, milk and yogurt make the smoothie satiating, and offer calcium, vitamin D, protein, probiotics, and other important nutrients.
Give this nutritious and delicious mango ginger spinach smoothie a blend, and let me know how you like it in the comments below!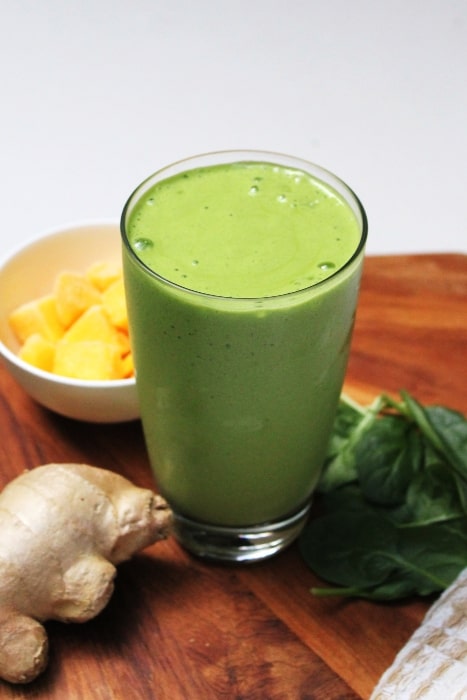 Mango Ginger Spinach Smoothie
This mango ginger spinach smoothie is made with clean, simple, and delicious ingredients. It's satiating, refreshing, and packs a nutritious punch! Perfect as a post-workout green smoothie, or a mid-day pick-me-up!
Ingredients
2 cups spinach
1 cup frozen mango
1/2 inch knob of ginger (or to taste)
1 cup milk
1 scoop of plain, unsweetened, Greek yogurt
Optional: if you want it sweeter, add half a frozen banana
Instructions
Add all ingredients to a blender (frozen ingredients added last).
Blend until smooth (about 30-60 seconds).
Serve and enjoy!
Notes
Tasting too green? Cut the spinach down to 1 cup and build up from there.